Tiziano made this Eleonora Gonzaga's portrait back in 1537. The painting was created with an admirable accuracy and precision and it's plenty of meaningful details, like the jewelry she is wearing. Of course, among all her jewelry I paid special attention to one of the tiny rings she is wearing in her finger, and that was the chosen piece to take part of our Historical collection. An amethyst and two peridotos were the semi precious stones we chose to decorate it.
But first, let's know more about Eleonora's life, which was crucial in the old History.
Eleonora Gonzaga was born in December 31st in 1493. She was the oldest among her brothers and sisters. Her parents were Francisco II Gonzaga and Isabella d'Este. Her mother was the duchess of Mantua and one of the most important women in the Italian Rennaissance. Isabella was a very good patron and a leader in fashion trends. Her trendy style was copied by all women in the whole Italy and also France. She regented Mantua when her husband was out and also while her son was still too young to do it.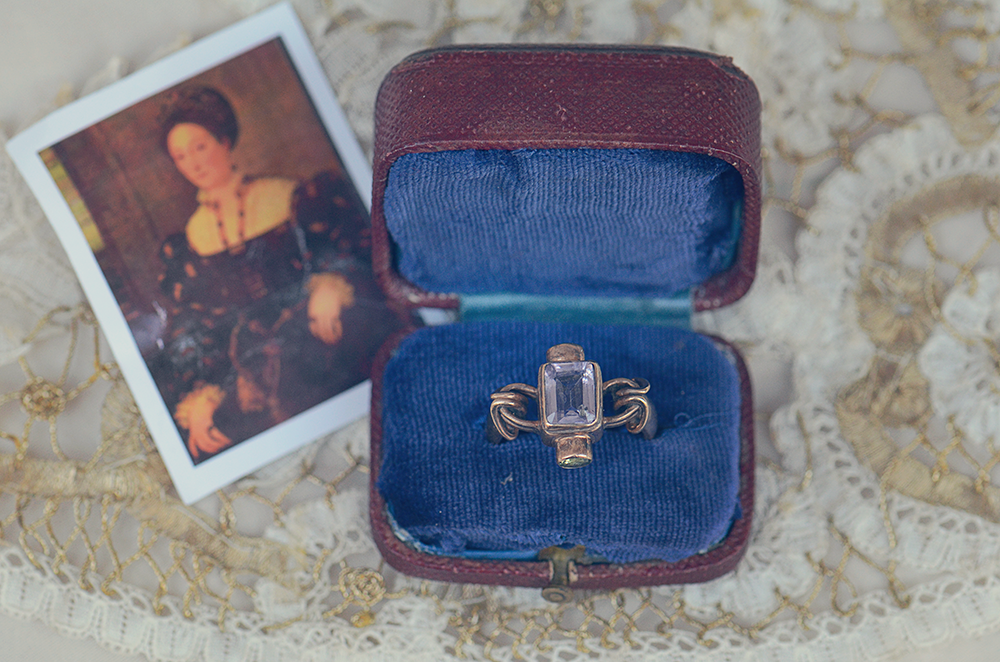 She was a perfect model for her daughter Eleonora. In 1509 she was married with Francesco Maria della Rovere, Julio II Pope's nephew. This marriage made her duchess of Urbino and gave her two sons and three daughters.
Eleonora was not only recognized because of her good work at arts like her mother, but also because she was able to manage Urbino's government when her husband was exiled. It's probable that her mother was her model also on this.
Among the main details of the painting is Eleonora's jewelry, marta's sking and also the animal head in gold highlighted over her chest, plenty of pearls and rubies that give her style more luxury if possible. Tiziano reminds us all the time about her power and influence. The dog is a intimate detale but also a symbol of happiness. The last detail worth of mention is the clock we can interpretate as the meaning of the fugacity of life.
Eleonora became widow and soon enough she passed away in 1570. But we'll always have this impressive portrait by Tiziano. The oil over canvas painting (114×102.2 cm) can be visited in the Uffizi Gallery in Florence.
Images:
Wikipedia
@María Vintage Photography