Although Lisner's pieces weren't really appreciated by collectors until recently, the prices have been increasing lately and they're gaining many followers throughout the modern collectors.
"Lisner and Company" was established in New York in 1904. At the beginning, the company made its own quality jewellery designs and didn't brand them. it was just before the explosion of the Second Worl War when Lisner became Else Schiaparelli's official agent in the US, importing and selling the French designer's pieces. He also had a license to produce, sell and distribute his jewellery and accessories in the US.
In the Thirties the Company Whiting and Davies, famous for their metal mesh bags, produced a few pieces for the brand.
However, Lisner's great peak would arrive in the Fifties. The jeweller, who produced designs in those years, became very popular for his colour combinations, attractive designs and, above all, his low prices.
The base to these pieces was lucite or plexiglas, a material developed by Dupont in 1937. An acryllic plastic that could be coloured and molded.
The Chairman of the company at the time was V. Ganz, a creative genius with a fashion instinct. He was sufficiently canny to develop the clean and commercial style that keeps Lisner's pieces as fresh as they were in the moment they were created.
The designs were placed on chrome bases or bathed in silver and, from the Sixties onwards, in "blackjapanned metal" (which is a type of black lacquered metal). This pieces on their black bases were popular in their day and very sought-after today.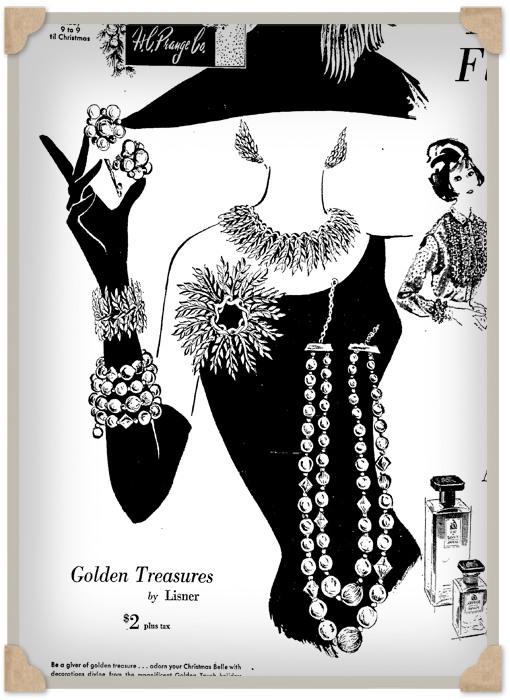 In the late Fifties early Sixties Lisner introduced a new range, branded "Richelieu", which was better quality and more expensive. The pieces are rarer to find nowadays and if they're in good condition the prices can be rather high.
The price of Lisner's designs have started to rise recently, due to the fact that pieces from other designers of the period are sky high. In the case that the prices of pieces made by highly premiered designers go up, the more affordable pieces, such as Lisner's, grow in demand. As a consequence the branded and well designed pieces are called on to rise in value.
The company used the brand "LISNER" in capital letters for their own pieces for this first time in 1935. From 1959 they used "LISNER" in capital letters with an elongated "L". Nevertheless the buyers should have in mind that the molds and stamps were reused afterwards, consequently the brand isn't a reliable indicator of the date of the piece.
The company's production finished in 1979.
Images: