An outstanding pearl necklace in gold with a simple tiara and matching earrings are the jewelry Maria Lucrecia di Medici wears. She i sour protagonist today in this spectacular portrait by Agnolo Bronzino.
Cosme de Medici got married with one of the wealthiest noble ladies in Naples, Leonor Alvarez di Toledo, the dutch of Alba's granddaughter.
This marriage meant a lot to Cosme since it started a political Alliance with Naples territory and a valious dowry that he invested in a good number of paintings. They had 11 children, although just one of them was able to survive: Fernando I di Medici.
Maria Lucrecia was one of his deariest daughters. She wasn't the older though, since a few years earlier Bia di Medici was born from an unknown mother who had lived in the court like a noble lady until her premature death.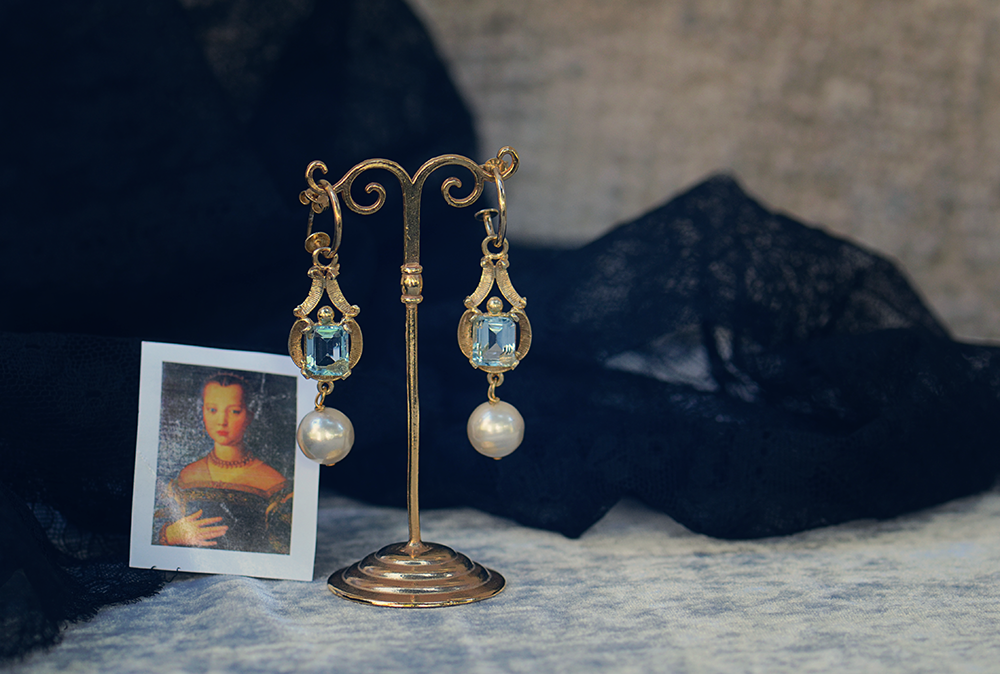 So Maria really was the first legal Cosme's daughter. She was born in the Medici Palace and was given that name to honour her two grandmothers.
Thanks to her contemporaries we know whe was not only a very beautiful young lady but also a very kind, refined, elegant and educated person. She was very good at languages and arts, able to fluently speak Spanish. When she was still a child, her wedding was pre planned with Alfonso II of Este, but the marriage never ever happened since Maria dead very young at 17 due to malaria.
According to the croniques from the time, Cosme I was truly in love with her daughter, she was her most loved one. Maybe because of that and because she was considered one of the most beautiful young ladies in Florence, he decided to inmortalize her face. Thanks to Bronzino, we all know today how beautiful she was. Cosme kept this portrait close to him all the time until his own death.
This is the most majestic portraits among Cosme's children. I'd highlight the superb dress along with the amazing jewelry she wears.
We've brought to our collection from the Rennaissance a copy of the earrings made in golden silver and quartz. A replica of the jewel that we know you'll love.
We hope so!
Bibliography
Wikipedia
Photographies:
Galería de los Ufizzi
@María López-Linares Vintage Photography