Today I bring to you one of those exhibits that you'll easily retain in your mind forever. The fineness and beauty of a Cartier's historic jewel, being able to admire it and almost feel it is with no doubt one of my biggest pleasures in life. If on top of that you make that a plan to travel to New York on vacations… what else you can ask for?
The show, under the name Cartier: Marjorie Merriweather Post's Dazzling Gems brings together the most famous pieces of one of the main Cartier's clients during the first half of the 20th century: Marjorie Merriweather.
The exhibit takes place in a rustic and very charming atmosphere with a touch of vintage air, placed within the gardens of the Hillwood museum. The building recreates the architecture that was common in the Adirondack Mountains, upstate New York, where our protagonist used to have her summer holidays.
The museum brings its special shows to this building in order to allow the visitor to enjoy a deepest experience of Hillwood.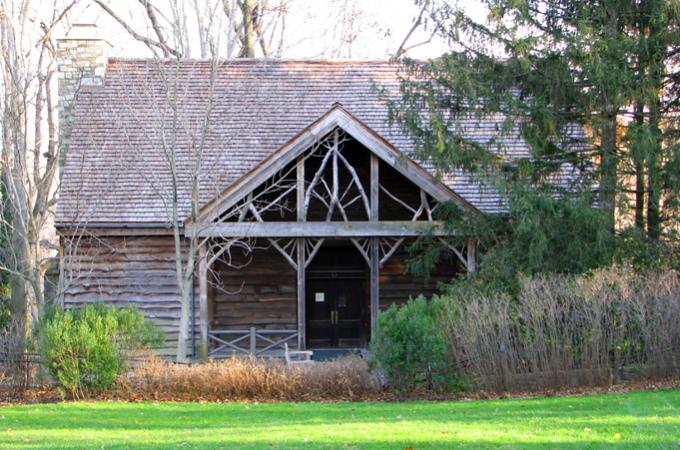 Who was Marjorie Merriweather Post?
Meter foto: Marjorie Merriweather wearing Cartiers jewelry – Hillwood museum exhibit – by Vintage By Lopez-Linares – Copy
She was considered an icon in the history of America. She was the founder of General Foods and a leading socialite who lived from 1887 to 1973. When she was 27 she became into the wealthiest woman in the States after inherit her father's fortune valued in $250 million.
The collection of jewelry, vintage furniture, porcelains, paintings and tapestries that Marjorie ended gathering during her long life is impressive and includes pieces from Faberge and Cartier, among other prestigious designers. The distinguish jewels that Marjorie requested from Cartier are the ones you can visit now in the Hillwood Museum.
Among the displayed jewels a brooch stands out. It's considered one of the Cartier master pieces, made with seven carved Indian emeralds, tiny diamonds, platinum and enamel. It was designed back in 1928 by the renowned jeweler for her appreciated customer Marjorie Merriweather Post.
It's also worth mentioning the necklace the designer did for her with pearls, diamonds and platino or the astonishing one with sapphires, among many other pieces worthy of the most demanding art collector.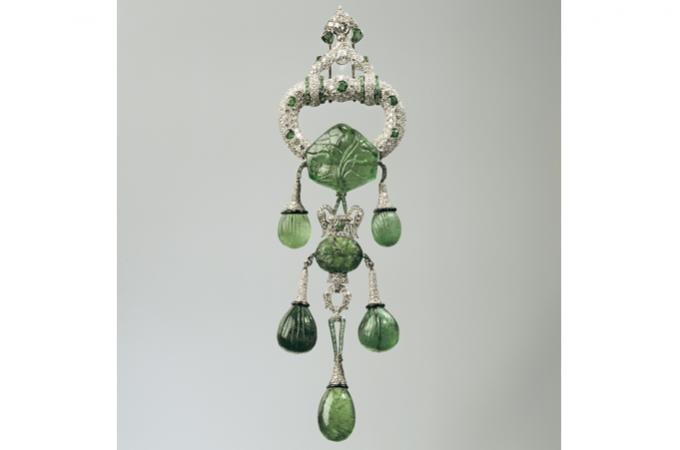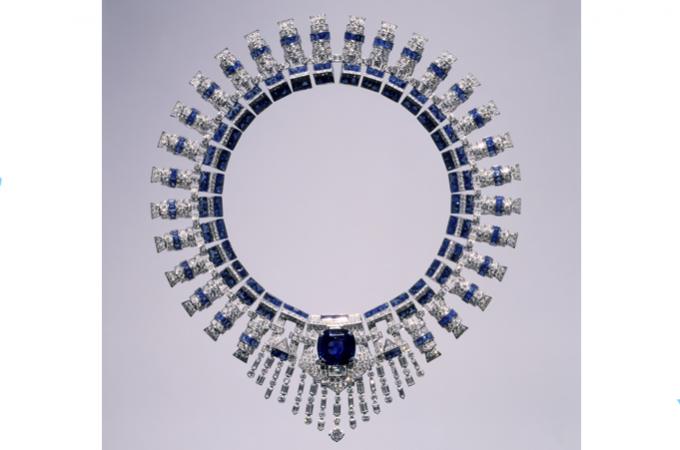 With no doubt, Marjorie had a very good taste for jewelry and fashion in general, like she proved with such an amazing collection, that you can visit until the end of 2014 in Washington DC.
Please, visit the Hillwood Museum website for further information or see more pictures in the exposition Pinterest board.