The Aston Martin DB5, had you heard about this super car before? Perhaps the name doesn't ring a bell for you, however if I were to tell you that it was one of the cars used by Agent 007 that's another thing. Isn't that right?
We didn't want to limit our "Vintage Icons" section to only telling the lives of legendary men and women but also to accommodate all vintage icons of other genres. Due to this, from now on we will publish an article about legendary cars and motorbikes once a month; film pieces that have left their mark on the minds of all motor lovers, and even amongst the minds of the non-lovers!
In order to do this we will count on Angel's collaboration. He is our expert on watches, barometers and all classes of antique scientific appliances. He is a "handyman" who has spent 20 years in the shadows of Lopez-Linares Antiques. He works from his precision workshop in order to ensure that every one of the pieces sold in our Antique shop maintains the same precision in its new destination as when it was made. He is a watchmaker by profession and by hobby, an expert on motorbikes and cars, a lover of classical cinema, photography and a tireless reader on any kind of technical information, ah, and my brother!!
Angel tells me the history of the Aston Martin as if he had driven it at some point in his life… Not in vain does he tell me that it is "the world's most famous car", at least in reference to cinematographic fame.
The Aston Martin DB5 was born in 1964 as an evolution from its smaller brother the DB4 but of a sportier character, with a bigger engine, power assisted double circuit disc brakes and a harder suspension. Furthermore it was equipped with luxuries uncommon to the time: electric windows, a 5 speed gearbox, double fuel tank, a magnesium alloy chassis… and even an extinguisher.
All of this converted the DB5 into a Sports coupé of great international category, to the point of being chosen to be the car of the world's most famous secret agent: Agent 007. The agent with a license to kill was created by Ian Fleming, and has continued to fill cinema's box offices all over the world until today. As a result of all this the Aston Martin DB5 has become the most iconic sports car of the British automobile history.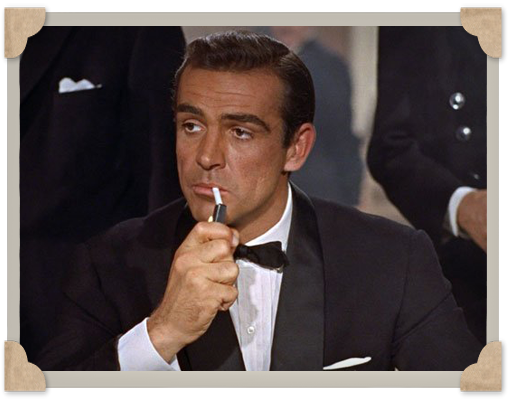 The actor who was chosen to drive and enjoy the car: Sean Connery, the one who, according to many, was the best James Bond of all time. He was the detective who chased down Her Majesty's enemies, the invincible secret agent, the one who conquered the most desired women, and the one who had the privilege of driving the car that so many men would have wished to have as their most prized toy parked in the garage of their house.
Connery was the actor who gave James Bond the air of a tough guy and an adventurer, as well as an elegant and forever seducing nature. Even Ian Fleming, who at the beginning did not quite agree with the chosen lead role as he appeared to him to be "lacking in refinement", had to admit, after seeing the film that Sean Connery had been magnificent in the role as 007, although he may have preferred actors such as Cary Grant.
His car, of course, could not be any inferior to him. The Aston Martin DB5 was equipped with all types of gadgets: camouflaged machine guns underneath the indicators, three number plates that were changed by the press of a button, foldable blades that appeared from the centre of the wheels (similar to Messala's chariot in Ben Hur), an anti-bullet shield that opened up behind the rear window, an extractable roof and a driver's seat with ejection system and parachute in the case of emergency.
The public success, although not from the critics, was spectacular. Perhaps, thanks to the success, the Aston Martin DB5 became a collector's item whose economic and sentimental value doesn't stop increasing. Not in vain has the original Aston Martin from both films (and the one that carries all the add-ons that it did in the film) been recently auctioned and sold for the price of 3 million Euros. An amount that has gone to an American Organisation dedicated to combating delinquency.
An appropriate end for a car created to fight against delinquency in a fictitious film, and whose auctioned value ended up being used to defend the Law.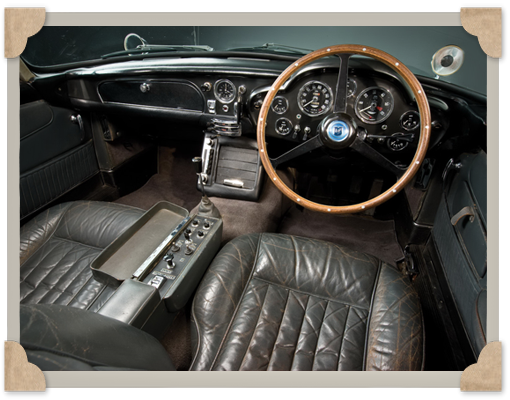 Technical Characteristics:
Price: £4175 at the time. Currently the car continues to be made and has an average price of around 300000$. Engine: Six cylinders in-line, 3995 cm3, 382 CV at 5500 rpm.
Transmission: 5 speed gearbox or a Borg-Warner automatic with 3 speeds.
Suspension:
Front: Telescopic shock absorbers.
Rear: Double wishbone with telescopic shock absorbers.
Brakes: Double circuit of assisted brakes with four solid discs.
Maximum speed: 233 km/h (145 mph)
Acceleration from 0 to 100: 7.1 seconds.
Angel found out, through a James Bond fan club, that you can subscribe to a monthly magazine that will send you pieces from the original Aston Martin DB5 model along with it. The funny thing with the model is that all the gadgets that the original car was equipped with actually work.
It looks beautiful. So, if you are one of those that have always dreamt of driving this iconic Sports car, don't miss out…