It's said Paulette Goddard's passion with jewelry started in the early 30's, right after she got secretly married with Charles Chaplin. Then it became usual for her to arrive to the dressing room with a little pouch plenty of jewels.
If I had to highlight one of the pieces she collected, I think I'd choose the two diamond necklaces. The most expensive one however is a jewel from the 40's worn by the actress during her role at the movie Kitty. The piece had an impressive diamond in the middle that might have been part of her engagement ring.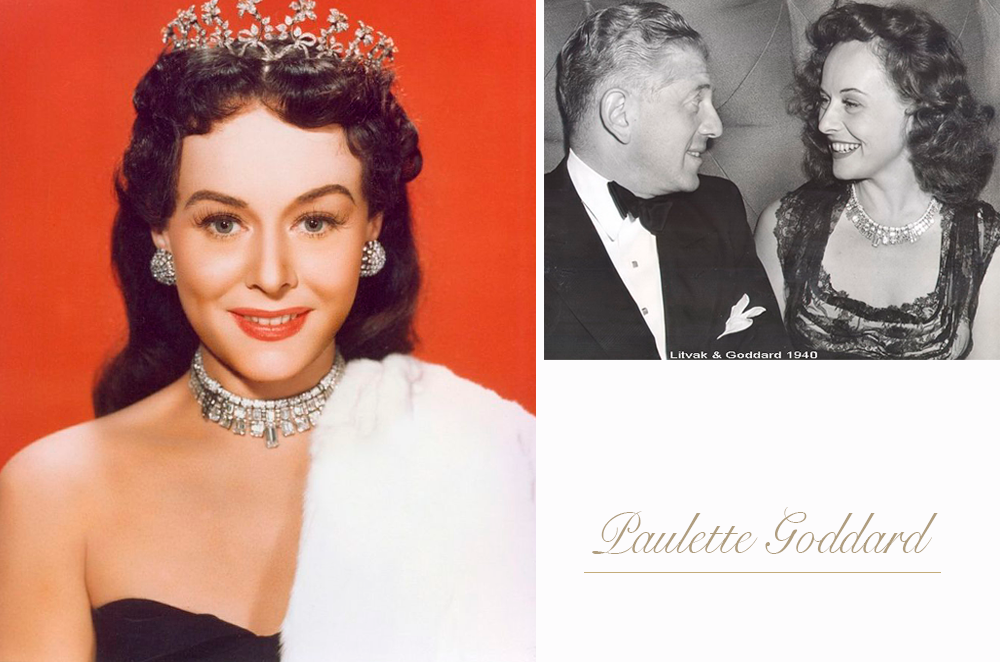 But with no doubt my favourite piece is the necklace from the 19th century. She wore it in many fests and the most famous parties of the time, both in a form of pendant or set in a tiara. In the picture below these lines you'll see her wearing it in both forms.
After the frustration she felt when she didn't get the role of Scarlett O'Hara in Gone With The Wind, Chaplin gave her a golden bracelet and cabochons made out of emeralds from the jeweller Trabert&Hoeffer Inc. It's a stunning group of flashy flowers that appears in many of the photos she was taken. The bracelet was combined with earrings with the same cabochons in emeralds and diamonds, similar to the design of the flowers. The flowery style was in fashion in the US by the time, and her bracelet and earrings are supposed to be inspired in a Van Cleef&Arpels' brooch owned by the Duchess of Windsor. A similar bracelet though was found among the Mary Pickford's collection.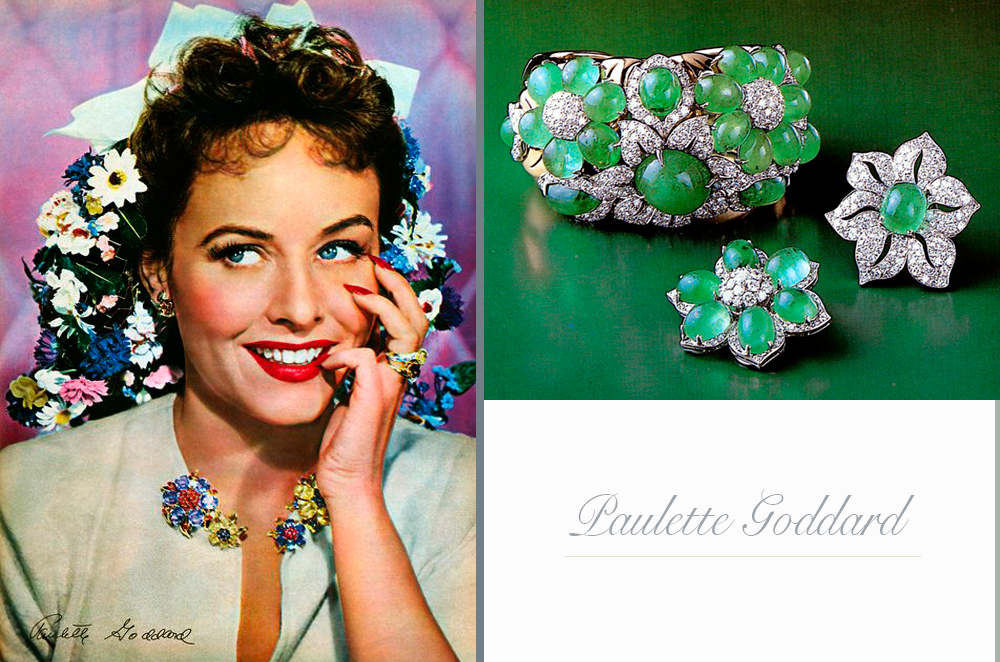 Other distinguished piece in Goddard's collection was a brooch with rubies with the form of a lips designed by the artista Salvador Dali exclusively for her
In 1990 (April and October) most of her collection was auctioned. In both occasions the pieces put out to tender were mainly from the 40's. The most notorious jewels were these ones:
The bracelet and earrings from Trabert&Hoeffer
A colorfull and charming pair of earrings with the fom of the golden flower, yellow and blue sapphires and rubies, by Cleef&Arpels, with a combining hairpins and a ring.
Also from Van Cleef&Arpels were a pair of earrings made with egg-formed diamonds, surrounded by carved diamonds.
A brooch of diamonds with the form of a snowflake.
A beautiful brooch in carved coral by Cartier.
The two amazing necklaces we've been talking about.
Paulette Goddard's jewelry collection was in line with her exquisite style, a woman not only beautiful but very smart. So perfect that when many men tried to lavish her with flowers, she responded: "I don't accept flowers, I don't accept any perishable".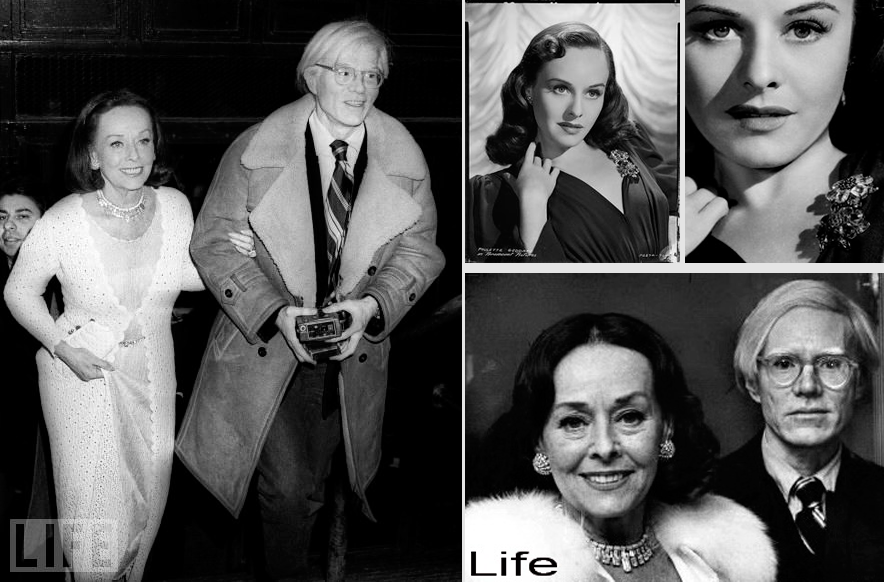 IMAGINES: