Most of the Joan Crawford's jewelry collection was auctioned right after her death. Although other part had already gone before she left us, Joan Crawford kept her most loved pieces (not the most valuable though). This collection is mostly from the decades 30, 40 and 50 (20th century) when the style was daring and the trend was to wear big pieces with huge ornaments.
Among al her pieces let me highlight the following:
A wonderful set of jewelry formed by a necklace, two twin bracelets, earrings and a ring, all by Raymond C Yard, one of the most acclaimed jeweller in the States in the time.
One of Crawford's favourite ones: a set in aquamarine and diamonds signed by the French house Boucheron (Verger Freres). Joan bought it in 1935 and since then she wore it in many occasions both, for the screen and her personal life too. After this set was acquired by Andy Warhol (for his "Collecion of Jewelry and Watches") it finally ended up in the Museum of Fine Arts in Boston, in the exhibition "Hollywood Glamour Fashion and Jewerly from Silver Screeen"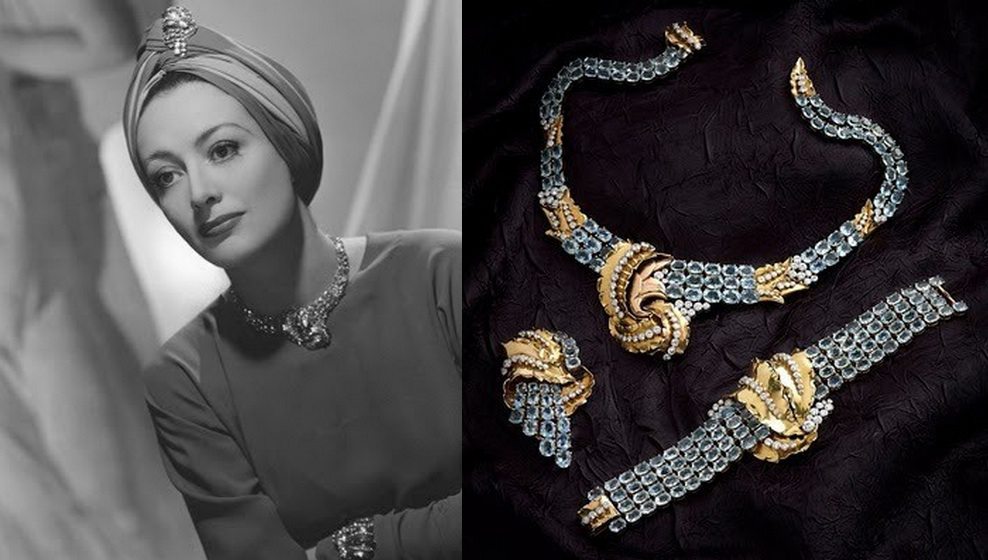 Alfred Steel, Pepsi's CEO, was the husband who gave Joan most of the jewelry. One of these pieces was a tiny brooch in gold with rubies and bottle-shaped diamonds that she received as a wedding gift. Years after, this piece was auctioned for $5000. Other spectacular piece she was given was a wrist watch in platinum and diamonds, by Ruser. The design was quite daring for the time decorated with closter-shaped diamonds and a bracelet in similar stones. The jewel had this inscription in it: "To my love, Xmas 1958, Alfred".
Impressive is also the set of brooches she acquired from the famous jewelry designer Fulco di Verdura. She used to wear them in her lapels to improve her look. Years after she started wearing them close to a diamond necklace she received, since the piece itself wasn't enough sparkling.
By the end of the 50's she added an amazing pair of earrings in diamonds to her collection. The design was also a closter in baguette, with diamond cut like markasites, each of them holding a little drop in diamond too.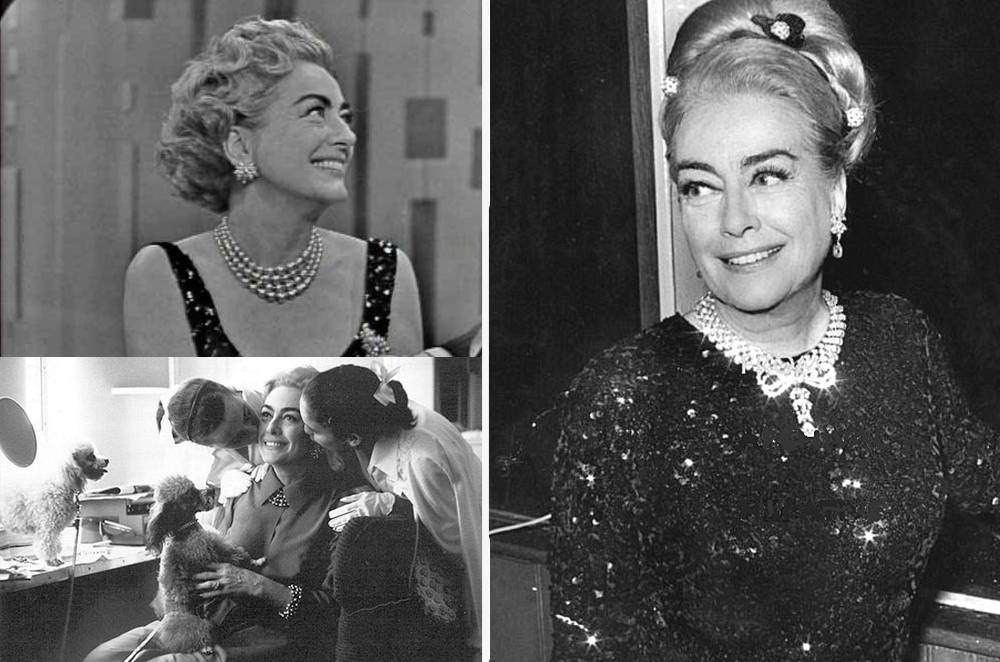 Joan Crawford was so in love with the sapphires that she was known as "Joan Blue". One of her favourite pieces was a set of bracelets with three starred sapphires (up to 70 carats each). She also had an engagement ring in the same form and stones and a superb emerald-cut 72 carats sapphire.
Her carisma, feline eyes and her ability to play dramatic roles made her one of the biggest stars in Hollywood.  She deserves to be part of our biggest jewelry collectionists.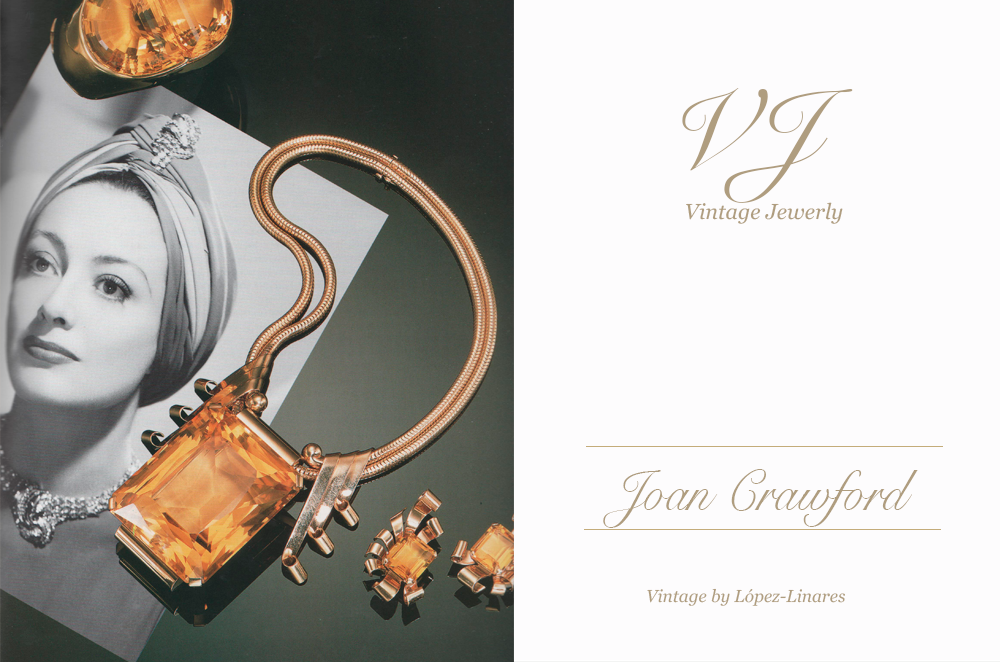 BIBLIOGRAPHY