Year: 1964.
Director: George Cukor.
Stars:
Audrey Hepburn (Eliza Doolittle).
Rex Harrison (Profesor Henry Higgins).
Stanley Holloway (Alfred Doolittle).
Wilfrid Hyde-White (Coronel Pickering).
Gladys Cooper (Sra Higgins).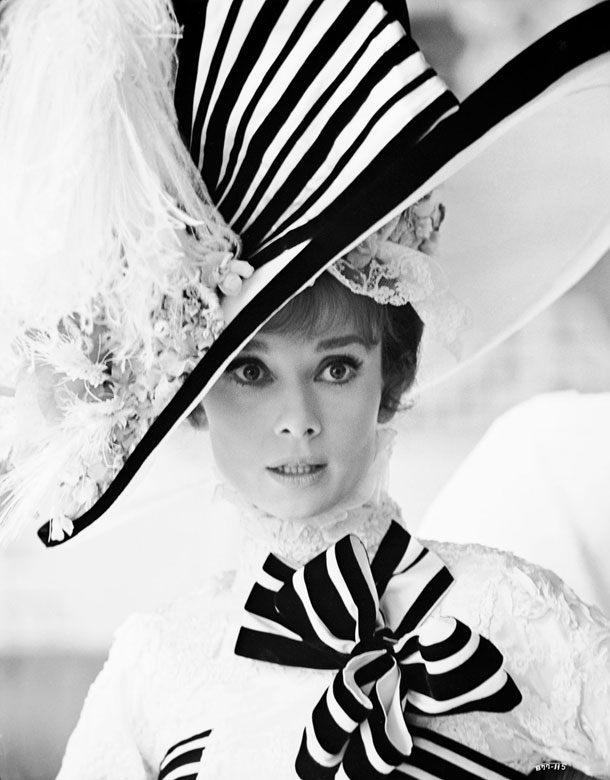 Awards:
It won 8 Oscars for Best Picture, Best Actor in a Leading Role, Best Director, Best Cinematography, Best Art Direction, Best Costume Design, Best Sound and Best Music.
It was nominated to four more Oscars for Best Actor in a Supporting Role, Best Actress in a Supporting Role, Best Writing and Best Film Editing.
The movie won many other awards you can check on IMDB website.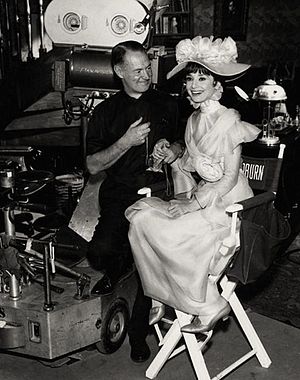 Curiosities:
Despite the efforts made by Audrey Hepburn to nail all the songs, most of them were actually doubled by the singer Marni Nixon, but for a few sentences at the beginning of some of the songs like The Rain in Spain or Just you Wait, Henry Higgins". Later, Audrey admitted she wouldn't have taken the role if she would've known she was to be doubled. She didn't appear in a musical again unless she was ensured she wouldn't be doubled.
Because of the way Rex Harrison used to sing, it wasn't possible to shoot the voice and double it later. He was the first actor at carrying a wireless microphone under his tie.
According to some biographies, Rex Harrison sang I've Grown Accustomed To Her Face thinking of his ex-wife Kay Kendall who had died a few years before.
Audrey Hepburn was performing a role of a 19 years old young lady, when she was already 35.
Jack Warner didn't want Harrison to do the role of professor Higgins, since he was too old. He actually wanted Peter O'Toole in that role, but this actor asked for an astronomic pay.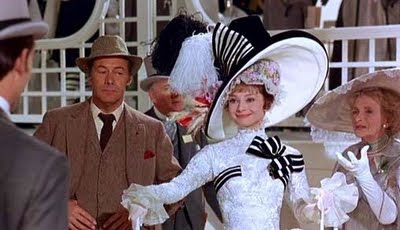 Rex Harrison dedicated the Oscar to his "two fair ladies", Audrey Hepburn and Julie Andrews, who had worked with him (with Audrey in this movie and with Julie in Broadway).
Audrey Hepburn always thought Julie Andrews should have done the role of Eliza. The only reason Julie didn't do it was because the Director Jack Warner didn't want her to. The actual reasons are not cleared yet. Walt Disney was ready to delay Mary Poppins shooting if Julie Andrews was accepted for My Fair Lady.
It seems the third actress in the list for the role was Elizabeth Taylor, who wanted it very badly.
Back in 1994, the movie was completely restored with a Budget of $600,000.
This is one of the few productions that has won both, a Tony Award and an Oscar in the same year. The other three films with these two awards are The Sound of Music, A Man For All Seasons and Amadeus.
The film cost $17 million, what meant it was the most expensive movie up to date.
It was shot totally indoors.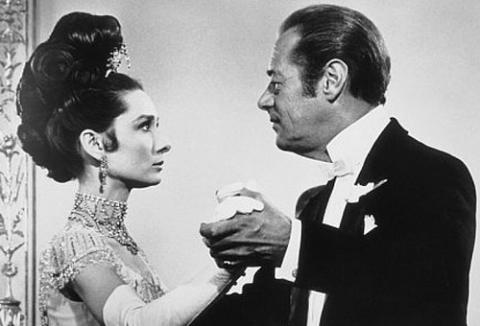 If possible, my first recommendation for you is to turn on your speakers at home, if you do have them, and listen to the music… It's poetic, a pleasure for your ears. In my opinion, Audrey Hepburn does one of the best performances in her career, even though she didn't win many awards for it. Unfortunately, The Academy didn't forget her voice was doubled and didn't give her the prizes she deserved.
With no doubt, the movie is one of the master pieces in the musical genre. A musical with a performance and a costume design worth of being admired.
With this movie we close our year of films. We've been reviewing one classic movie per week in our Film of the Week and I'd like to thank you all the incredible good acceptance this adventure has had among you all. We might bring it again to the blog some day, but first we have to give you many other surprises we are planning for our new sections from September onwards. Be tuned!
Imágenes:
Doctormacro.com
Wikipedia