Year: 1938
Cast:
Director: Howard Hawks
Katharine Hepburn: Susan
Cary Grant: David
Leopard: Baby
Photography by Russell Metty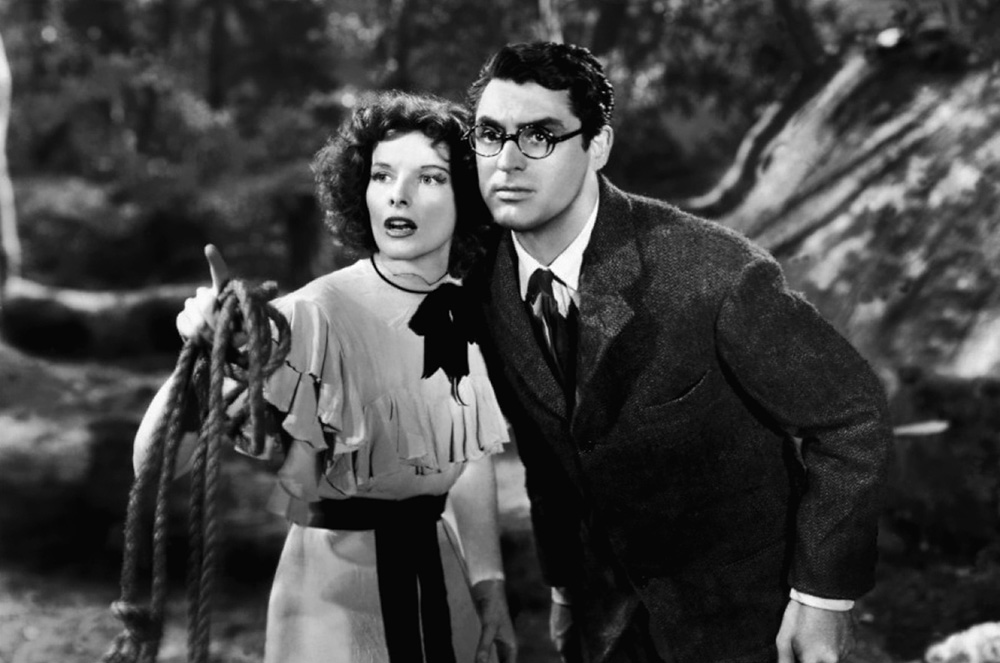 With all its trip-ups, stuttered words, costumes, nonsensical dialogues and unbelievable situations, the first few minutes of the film already indicate that we have before us one of the most enjoyable comedies in the history of cinema.
First we have the splendid Katharine Hepburn playing the role of a capricious, reckless and perhaps somewhat hyperactive rich heiress. Then we have the absent-minded, elegant and attractive Cary Grant.
It is a film charged with vitality and optimism, one of those which raises your spirits on a sad Sunday afternoon, and that makes your roar with laughter more than once whilst truly enjoying yourself.
These are three of my most memorable scenes:
The broken dress scene: a crazed Katharine that does not allow an absent-minded, muddle-headed and innocent Cary Grant speak, as he gullibly falls into Hepburn's grip whilst she handles his every whim.
The scene of the robe, when Katharine's aunt unexpectedly presents herself at the house to discover Cary Grant covered in feathers and gossamer.
Also, the prison scene, which nearly reminds you of a scene from one of the Marx Brother's famous movies.
It is a comedy in which everything complicates itself to unexpected levels of romance and pure disorder, so absurd and silly that it makes you laugh. All this, together with splendid photography, an incredible atmosphere and, above all, a masterful interpretation by the two starring parts, make an unforgettable film that still provokes us to roar with laughter today.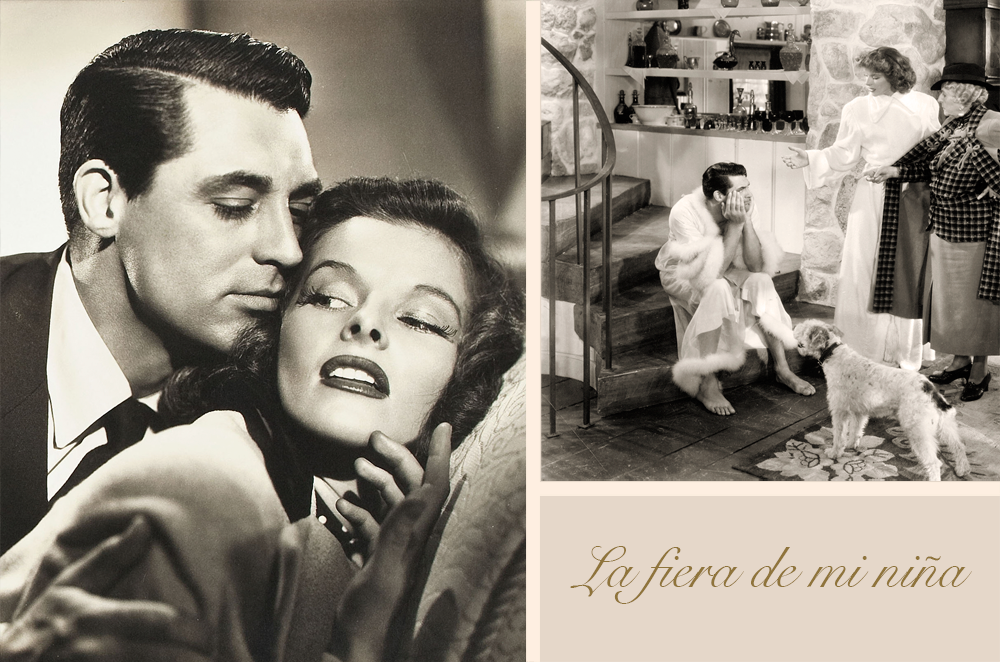 Awards:
Awarded in 1990 by the National Film Preservation Board.
According to Entertainment Weekly it is placed at number 24 in the best films of all time.
Premiere magazine voted it "One of the best 50 comedies of all time".
In 2007 the American Film Institute placed it at number 88 of the Best Films in history.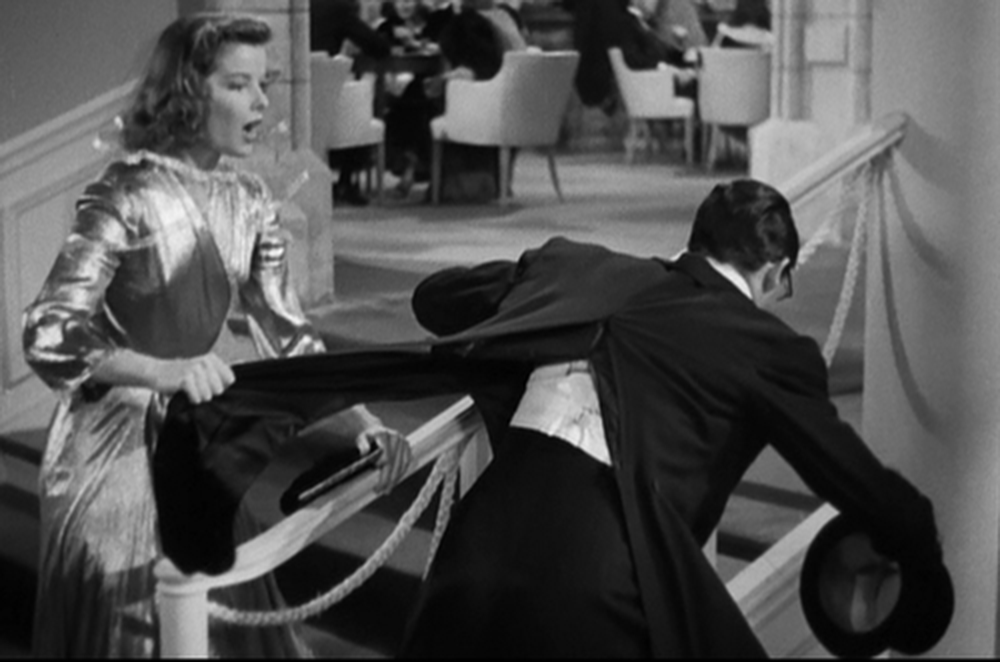 Curious Facts:
Katharine Hepburn had never done a comedy before. She had to be taught by various Vaudeville specialists, such as Howard Hawks. On the other hand, Cary Grant was already a specialist in comedies.
Katharine had no problem doing the scenes with the leopard, whilst Cary Grant was always substituted by a double.
In many scenes a baby leopard was used, however, in others a partitioned set technique was used, and mounted together later on. A real feat for the period.
It was a box office failure. Howard Hawks was fired and the nickname of "Box Office Poison" was given to Katharine Hepburn.
Howard Hawks modelled Cary Grant's character around the actor Harold Lloyd's personality, he even gave him glasses.
Cary Grant's character makes references to Pato Donald and Mickey Mouse. RKO was the Disney distributor at that time.
The film has no soundtrack.
The scene in which Katharine Hepburn breaks the dress and Cary Grant helps her to cover up is based on a real situation that happened to Grant: he caught the zipper on a woman's dress in a theatre and, impulsively, went behind her. Howard Hawks found it so amusing that he decided to include it in the movie.
Cary Grant was so scared of the leopard that in order to torture him, Katharine Hepburn placed a stuffed leopard toy in one of the open air vents. "He ran out of there like lightning", she wrote in her memoirs.
The scenes in which the leopard moves freely (especially those in Susan's apartment) were filmed inside a cage, in which the cameras were strategically placed.
It is the second of four films that saw Grant and Hepburn united.
In its day, although many now consider this to be Hawks' best film, its director stated that Bringing up Baby was no good due to its characters being over-"irrational".
I leave you with a few of the funniest scenes:
Images:
jamd1973.blogspot.com y http://www.imdb.com/