Year: 1959
Director: Billy Wilder.
Stars:
Marylin Monroe (Sugar Cane).
Tony Curtis (Joe).
Jack Lemmon (Jerry).
George Raft (Spats Colombo).
Joe E. Brown (Osgood).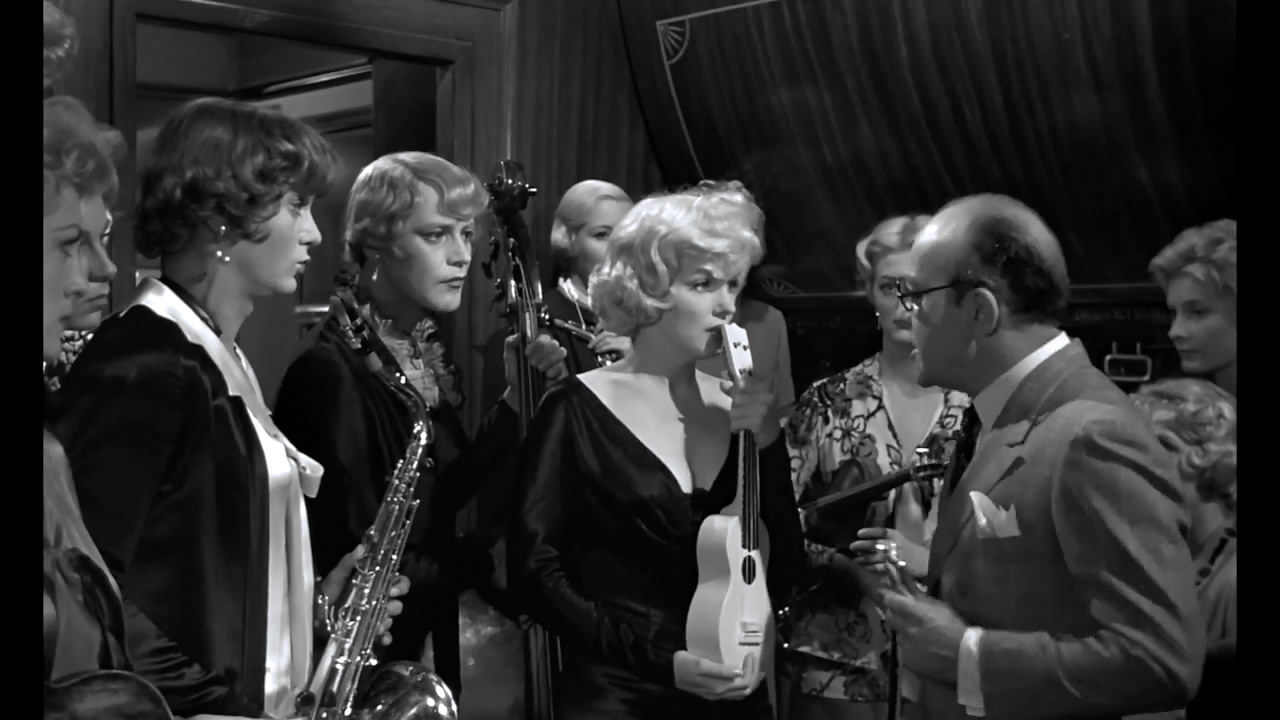 Awards:
It won one Oscar for Best Costume Design, Black-and-White. In addition, the movie gained many other prizes you can check in the IMDB profile.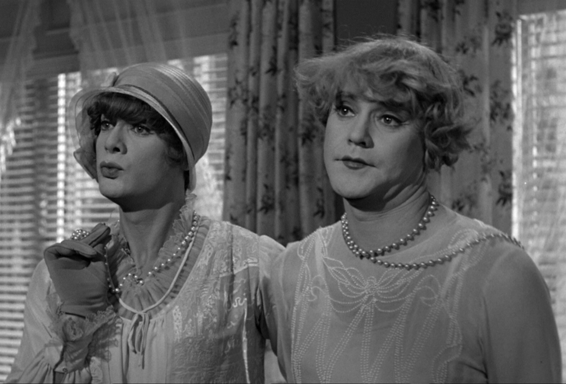 Curiosities:
When the designer was having mesurements from the three protagonists he said to Marilyn that Tony Curtis "had a better butt". Marilyn didn't hesitate to putting off her shirt and show him her breasts saying "he might have it, but he doesn't have these ones".
Marilyn has trouble memorizing sentences. There's a very famous scene where she just had to say "where's the Bourbon"? and after more than 40 repetitions in which Marilyn always said it wrong ("where's the whisky?", "where's the bottle" or even "where's the bonbon"? Billy Wilder opted to writing it inside the drawer she had to open. But Marilyn was smarter than that and started going to the wrong drawer. They had to write the sentence in all of them. It took her 55 shots to make it right.
In the scene where she says good bye to Tony Curtis on the pone, she is moving he reyes from one side to the other. It was pretty clear she was reading the sentences in a board in front of her. She also used to be around 2 or 3 hours late and sometimes she didn't even leave her dressing room.
Tony Curtis asked Billy Wilder if he could imitate Cary Grant to properly performance the role of a millionaire. They did so and it seems Grant liked the scene, although he admitted "I don't speak like that".
The first time Jack Lemmon and Tony Curtis dressed up as women, they walked through the studio to find out if someone could identify them. Nobody did. Then they went straight to the female restroom but nobody did either. A scene in a train reproduce this moment.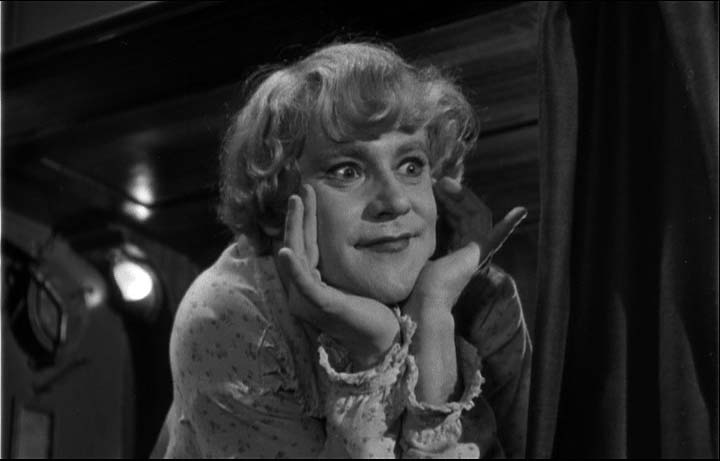 This is one of the few movies qualified as cursed by the American Catholic Legion of the Decency. In Kansas was actually censored.
Marilyn wanted the film to be shot in color, but Wilder convinced her of the opposite. He explained the make-up on Lemmon and Curtis would be seen in a green tone.
The team hired a cabaret dancer in order to teach the main characters to walking over heels. After one week, Jack Lemmon said he didn't want to learn that since he wanted to walk as a man imitating a woman.
According to Jack Lemmon, George Raft spent hours trying to teach him (and Joe E. Brown) how to dance tango.
Jerry Lewis was offered the role of Jerry, but he rejected it. Later he regretted.
Tony Curtis' voice as a woman is doubled.
In order to do the role of Josephine, Tony Curtis thought of her mother, Grace Kellly and Eve Arden.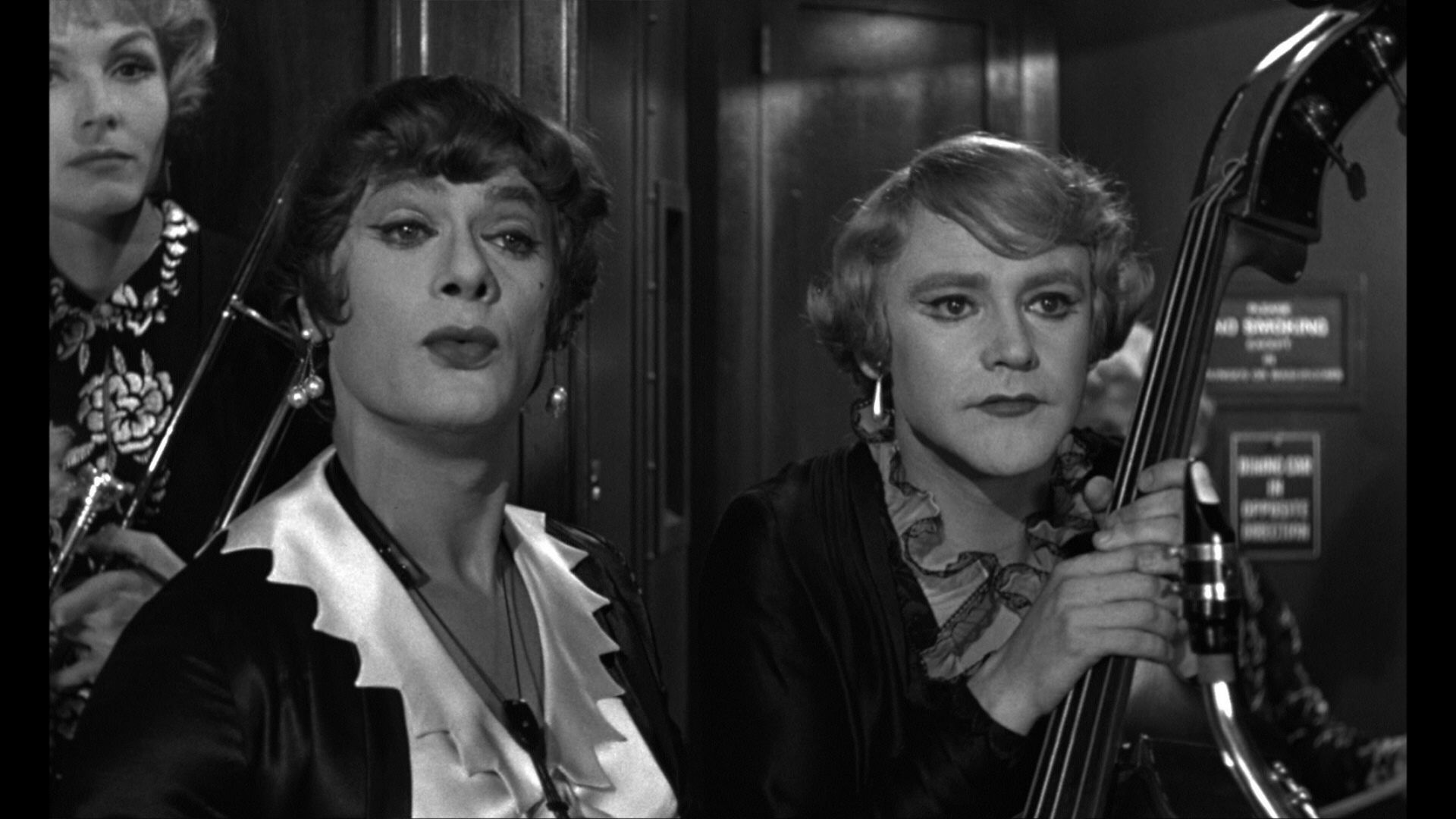 If a movie is worth of being in the history of cinema as THE COMEDY is this one with no doubt.
Billy Wilder, to me the god of cinema, makes again a master piece where drama doesn't fit at all.  The only purpose of this film is allow viewers to laugh out loud during the whole tape. Marilyn is sensational, although she already was suffering from all the excesses in her life. She is sexy, swindler and a bit inocent. That way she turns to be the goddess in every scene where she appears.
The moment she appears with Jerry and Joe at the train station right when the steam was coming out (that wasn't on purpose) is just ingenious, just masterful.
The end is pretty amazingly funny too… Don't miss a second!
This is possibly the best comedy of all times. A movie that still has the same funny over the years and that will make you spend a really good time.
Trailer:
Images:
Sospechososcinefagos.blogspot.com.es